From Södra Säm in Sweden to Governor in Montana USA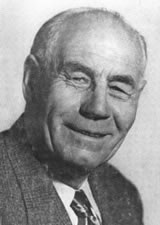 Governor John Hugo Aronson, a Republican from Cut Bank, was born September 1, 1891, in Södra Säm, Västergötland County, Sweden. "The Galloping Swede" was a former Glacier County Senator and Hi-Line businessman. Governor Aronson served from 1953 to 1961. Aronson authorized the exclusive revenue for the state Highway Department with the creation of state gasoline user taxes. Governor Aronson also authorized the creation of the Legislative Council to assist the legislative branch in the creation of necessary law.
J.Hugo Aronson in my Family Tree
The Galloping Swede
J. Hugo Aronson, also known as "The Galloping Swede" — of Montana.
His education was limited and attained in the public schools of his native country. In 1911 he immigrated to the United States, where he traveled to numerous states, working various odd jobs. He eventually settled in Sunburst, Montana and became established in the oil rigging business. Aronson first entered politics as alderman of the Cut Bank City Council, a position he held from 1934 to 1938.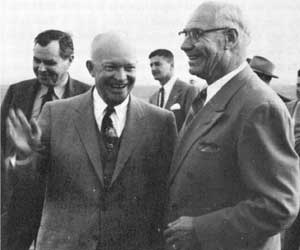 J. Hugo Aronson and President Eisenhower in 1954
He also served as a member of the Montana House of Representatives from 1939 to 1944, and was a member of the Montana State Senate from 1945 to 1952. Aronson next secured the Republican gubernatorial nomination, and was elected governor by a popular vote on November 4, 1952.

He was reelected to a second term in 1956.
During his tenure, the state forestry office was restructured; a gasoline tax was initiated that funded the highway department; prison reform programs were instituted; a legislative council was founded; and a prison riot was dealt with.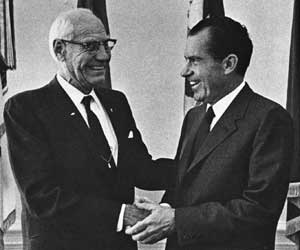 J. Hugo Aronson and President Nixon in 1969
After completing his term, Aronson stayed active in Republican politics. In 1968, he served as the honorary state campaign chairman for Richard Nixon's presidential race.
Governor J Hugo Aronson passed away on February 25, 1978, and was buried in the Pleasant View Cemetery in Davenport, Washington.
---
Sources:
Sobel, Robert, and John Raimo, eds. Biographical Directory of the Governors of the United States, 1789-1978, Vol. 3, Westport, Conn.; Meckler Books, 1978. 4 vols.
The photographs are taken from the book The Galloping Swede
---
Hugo and his first wife Matilda Langane.
Hugo and Matilda married June 3, 1919 in Paris.
After 17 years of happy marriage Matilda becomes ill and died suddenly in Paris March 1, 1936.

Hugo and his second wife Rose Myrtle McClurie.
Hugo and Rose Myrtle married September 9, 1944 in Minneapolis.
Rose died February 25, 1968.
Hugo Aronson died in February 25, 1978
---
"The Galloping Swede" from 1970, written by J. Hugo Aronson

J. Hugo Aronson visited Ulricehamn city, Sweden in 1959
---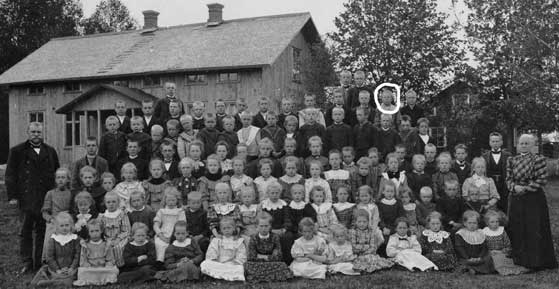 Scool photo from Södra Säm, Sweden 1907. Hugo Aronson's brother Eric (born 1897) in the circle. Click to enlarge.
The Galloping Swede story
J. Hugo Aronson was born Sept. 1 1891 in a small soldier croft Kullen, in Navstocka, Södra Säm.