Church ruins in Södra Säm
What is really hidden in the soil of Southern Säm?
Southern Säms church ruins show that it was in many ways interesting church. Arne Johansson hopes that planned excavations will provide much new knowledge. This conceals a history.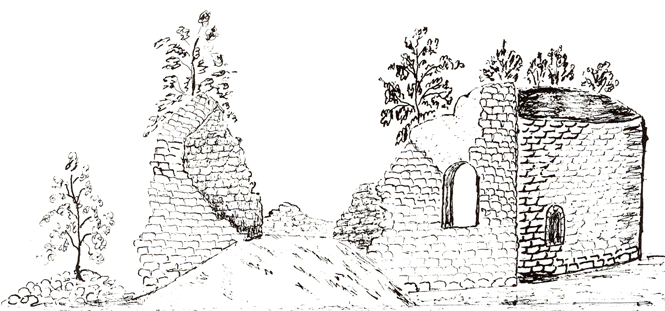 The church ruin in Södra Säm. Original drawing made by Djurklou 1868.
Findings by the "Priest road", marked on old maps and the preserved church ruins raises interest. Now researchers want to archaeological excavations at the two locations. The area around Sämsjön is very rich in ancient monuments has long been recognized. But the area is poorly studied. The interest's archeologists have been mainly directed against Skaraborg and the area around Lödöse and Nödinge.
Vegby local folklore society have a map from 1710 and there discovered Arne Johansson, "the driving force" an exciting marking. Approximately 300 meters south of the church ruin is marked "an old dilapidated Kyrkiogård".
Arne has considered this for a while and found that it really is a sand bank totally free from stones. But there is an elongated mound of stones and according to reports there are located stone slabs on a limited area.
In various ways has Arne Johansson sought generated interest to find out more. And now have he and the local folklore society managed to bring the scientific interest. It is Ph.D. Claes Theliander at Göteborg University. He is an expert on Västergötlands Christian spirit.


The church ruin in Södra Säm 2010
Interesting church
In September 2008 Claes went to South Säm to meet with Arne Johansson and his sister Helena. And in place was Claes Theliander "fire and flames" of what he saw. Foremost it was the church ruin he found very interesting.

It has a so-called absidsal, which is extremely rare in Scandinavia. It is a church with a nave without sanctuary which imposes an absid end than directly against the long eastern wall of the house. Long House is about 20 meters long and nearly ten meters wide, which almost corresponds to the size of Falköping church, which is Västergötlands largest Roman church after the Cathedral of the crowd and the Church of Husaby. It is a large church that existed in Southern Säm.
Reconstruction of Södra Säm's old church around 1800.
Watercolor by Björn Gidstam 2010

Reconstruction of the oldest church in the 1100s. Watercolor by Björn Gidstam 2010
What is exciting is how the relationship between the two churches has been. Have they been so-called twin churches, which is extremely unusual in rural areas. Or has the old replaced by the latter, today the church ruin? In that case, why? The older site is more appropriate for the church building than the latter.

To get answers to a lot of questions about the South's history in general and church history in particular, Claes Theliander set up a project description and survey plan in terms of excavation at the two sites. It was estimated to cost about 320,000 kronor, money that does not exist in the present situation.

-We will apply for grants from various foundations, businesses and individuals. I do think that we are to get money, for the project is both interesting and very important. Perhaps it is one of Sweden's absolute earliest church formations here, says Arne Johansson.


Arne Johansson at the church ruins in Södra Säm. Stone's inscription reads: "This stone was erected by parishioners in Södra Säm to honor the memory of our ancestors' final resting place. Södra Säm 1997."